Ottawa street art that is dying to be instagrammed
Ottawa's street art scene is heating up. Here are the most photogenic graffiti murals for your feed.
Ottawa's street art scene has exploded recently. Murals, installations, and graffiti pieces dot our urban landscape, transforming the Capital into a colourful and welcoming place. Besides helping keep streets clean and beautiful, public artworks like street murals provide us avid instagrammers with plenty of selfie opportunities! Ottawa is filled with cool and picturesque artworks that deserve to be on your feed. What are you waiting for- get out there and start gramming!

Vanier
Vanier's BIA was one of the first in the country to begin introducing colourful murals to its streets. With over 30 unique street art pieces, the community's streets celebrate its francophone heritage as a working class suburb.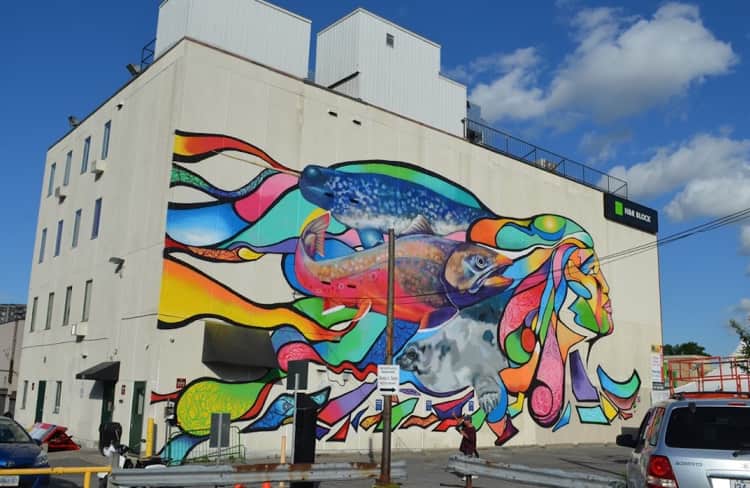 Photo: kalkidan-assefa.com
MOZAIK, located at 261 Montreal Road, one of the tallest murals in the entire city. This incredible four storey creation is a collaboration by artists Mique Michelle, Marcus Kisa-Gaudreau, and Kalkidan Assefa. Stretching nearly 11 metres tall, this unique piece required a special permit from the city (it seems even street art isn't free of bylaw bureaucracy).
Glebe
No list of instagrammable spots would be complete without mentioning Ottawa's cutest community, the Glebe. This happening neighbourhood is packed with unique murals of nature, toys, food, and everything in between!
Many of the street art pieces reflect the buildings they live on, like this mural at 116 Third Avenue. Hosted on the side of Octopus Books, it features an octopus reading (what else!)

Photo: Johnsankey.ca
Lower Town
While Lower Town often gets pushed aside for the world famous Byward Market or Parliamentary District, this trendy urban community is fighting back with its own unique street art. Proving Lower Town isn't 'low' on style, this cool installation at 157 Beausoleil Drive is one beau soleil!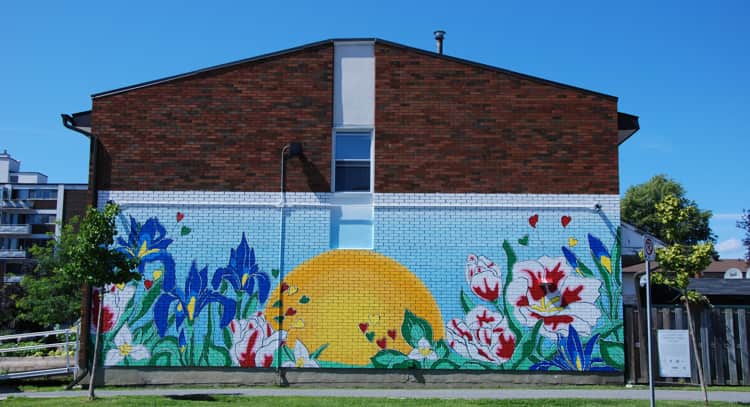 Photo: Mayahum.com
Centretown
Centretown is putting the stereotype that downtown cores are uninspired to shame. This trendy neighbourhood in the heart of Ottawa is packed with colourful artwork celebrating the community. For example, this epic fish at XX Bank Street pulls double duty as an advertisement for Glowfair, a popular local street party.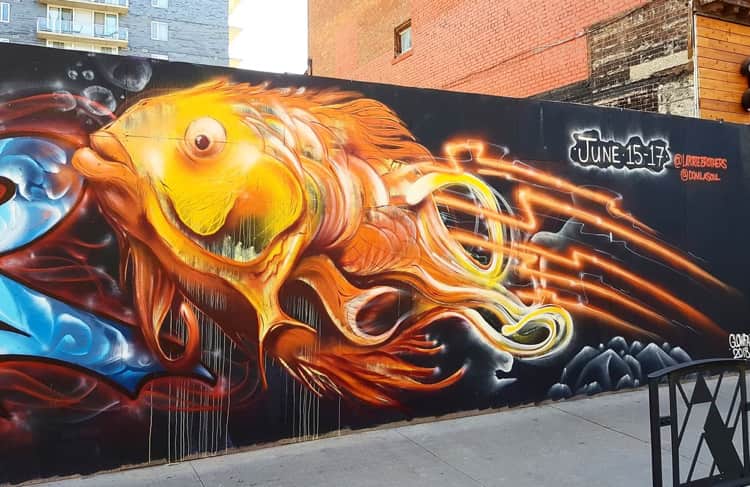 This mural was too beautiful to be contained; it stretches right around the corner!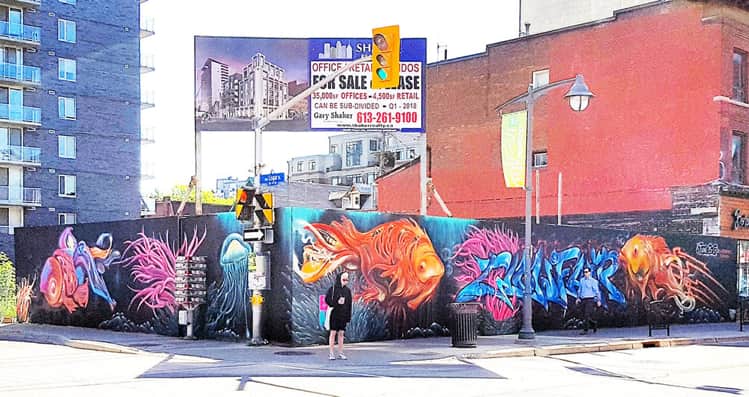 Photos: Domlaporte.com
Hintonburg
The up-and-coming community of Hintonburg is known for its parks, quirky cafes, and tasty craft brews. However, this small west-end neighbourhood is rapidly becoming a mecca for urban artists. Many of the community's alleyways and dead-end streets have been decorated with unique creations, like this mural by Ottawa artist Daniel Martelock at Lyndale Ave and Carruthers Ave.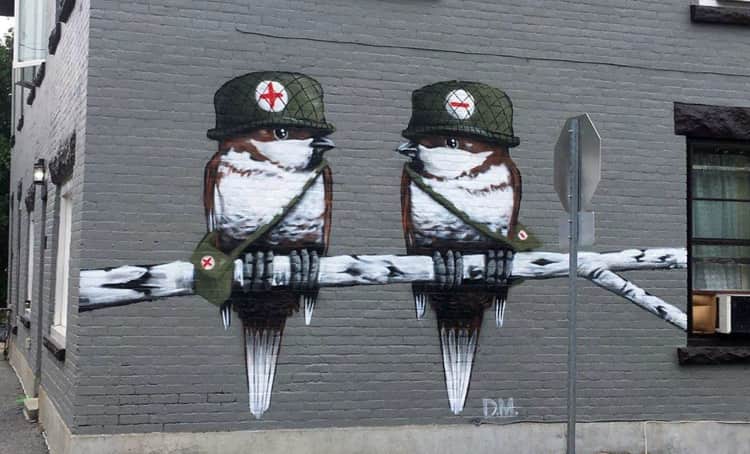 Photo: Daniel Martelock
LeBreton Flats
While this laid back community is better known for its music festivals, LeBreton Flats is also home to plenty of visual art as well. Known as the 'Tech Wall', thanks to the nearby Ottawa Technical High School, this sanctioned graffiti wall can be found at Slater and Bronson. Featuring an ever changing selection of local artists, this spot always has something new to offer. Feeling inspired? Leave your mark - graffiti on this wall is not only legal, but encouraged!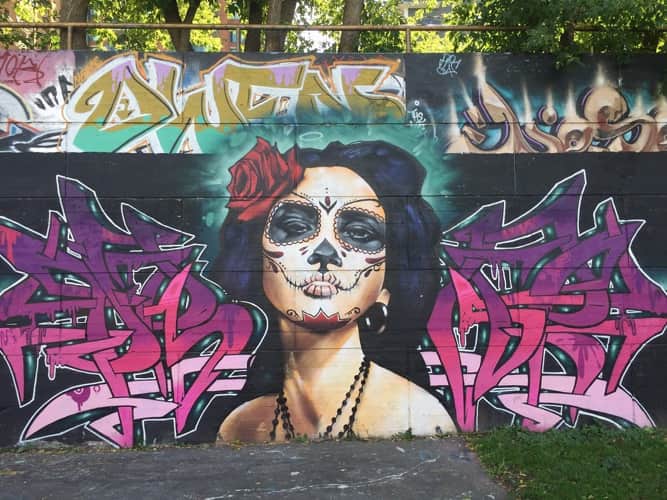 Photo: OttawaExplorer.ca
An added bonus? The grass along the wall is also a fenced in dog park. Pups + cool art = instagram perfection!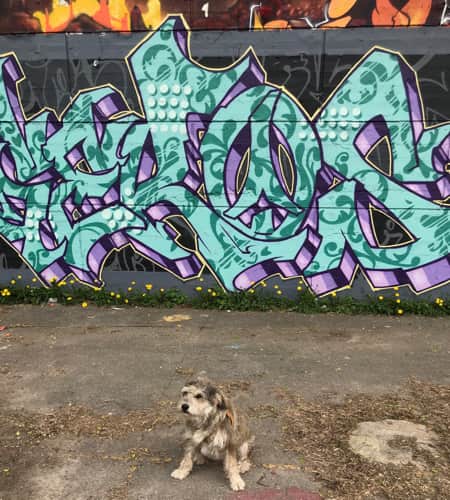 Still looking for more 'grammable spots? Here's a shameless self plug: check out the cool graffiti style wall inside Bayview Yards (home of Homicity!) during Doors Open Ottawa. This custom piece was created by local Ottawa duo Laporte Brothers.

Photo: Bayview Yards
Ready to make the move to one of these uber cool communities? Start your property search with Homicity.