Inside the luxe condo on Broadway Avenue
Take a look at 701 922 Broadway AVE, Saskatoon. It is a colossal penthouse condo boasting a dazzling array of custom finishes.
Luxury is a major priority at 922 Broadway Avenue. From all condo buildings in Saskatoon, this one has a hidden gem in unit #701. A colossal penthouse of with 2 bedrooms, 2 bathrooms and 2,088 sqft of breathtaking interior design.
Broadway Avenue is one of Saskatoon's most eclectic and artistic streets. The penthouse is just steps away from the city's best restaurants, lounges, coffee shops and retailers. Its central location to all major city destinations allows a lifestyle of effortless urban and luxury living. And thanks to its proximity to the South Saskatchewan River, views of the city skyline both day and night offer stunning sunsets all year round.
Inside, this penthouse is an urban palace where interior design takes precedence. The interior was designed by Atmosphere Interior Design, a local award-winning firm recognized across North America as one of the bests and continually celebrated in design magazines.
The suite at 922 Broadway stays true to their design philosophy. The atmosphere they created is not only a space to live in, but one that enlivens you. The space is "current and modern with nods to classic and timeless details." The penthouse has been called the "Luxe Condo," a fitting nickname once you see the dazzling array of custom finishes that make it luxury living at its finest. It is a striking example of design work that layers detail with style.
The kitchen is made with dark marble custom cabinetry of dark marble, gourmet appliances, and gold metalwork integrated throughout the space. The mix of grey, black and gold is a consistent colour theme in the penthouse. Every room has a few pieces that bring out a little of golden glow. And the space is enhanced with 12-foot coffered ceilings, oak hardwood flooring and wall to wall tile.
The unit also fully decorated with custom drapery and enhanced with the world's finest wall coverings. Once you enter into each living room, you see the use of eccentric wallpapers, modern art, chandeliers and furniture. But they all work perfectly together to create a well-balanced space that can only be created by one of the brightest minds in the interior design industry. Another design element that makes this suite unique are the lighting fixtures. With different shapes and sizes, the geometric gold lamps add a fine detail.
Technology doesn't get left behind in this condo. The unit includes an integrated sound system with built-in technology, wall mount iPad controls, and automated Hunter Douglas window coverings.
Take a look at the luxe condo: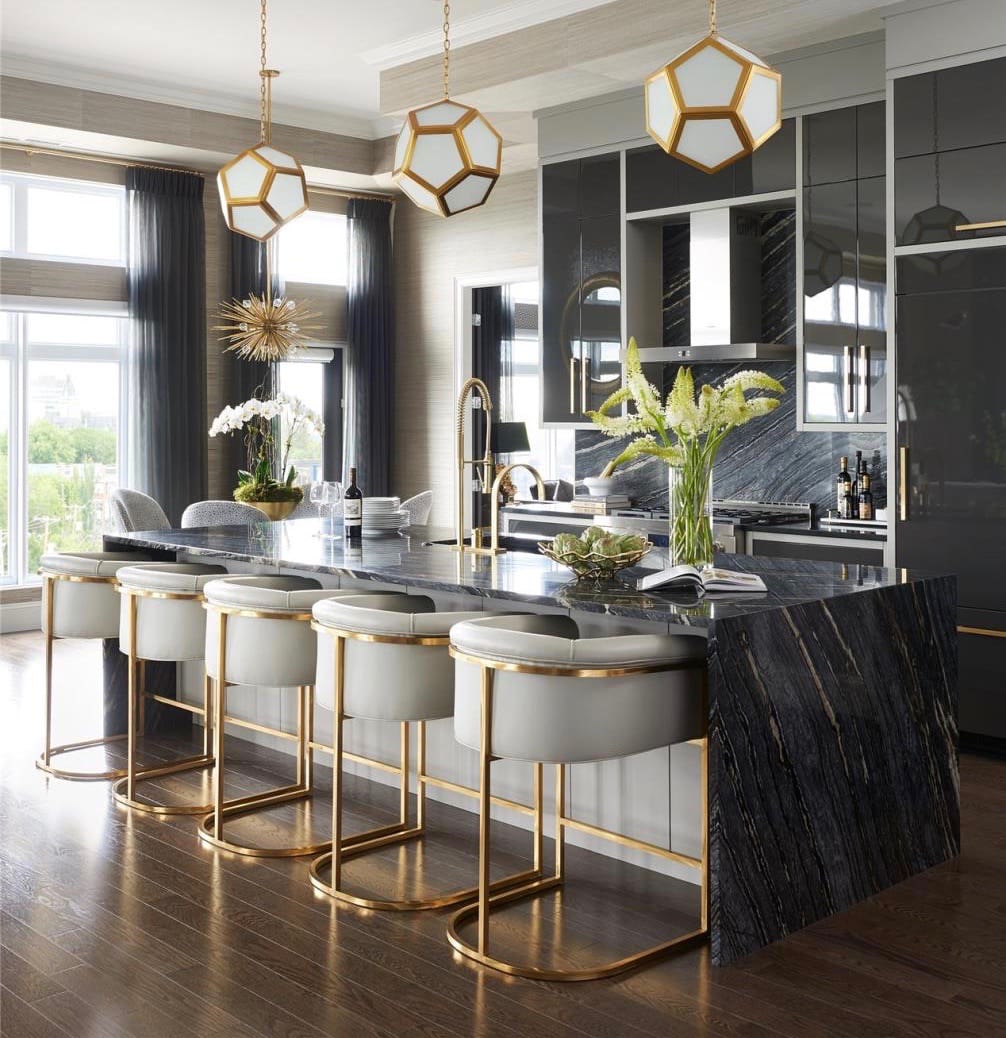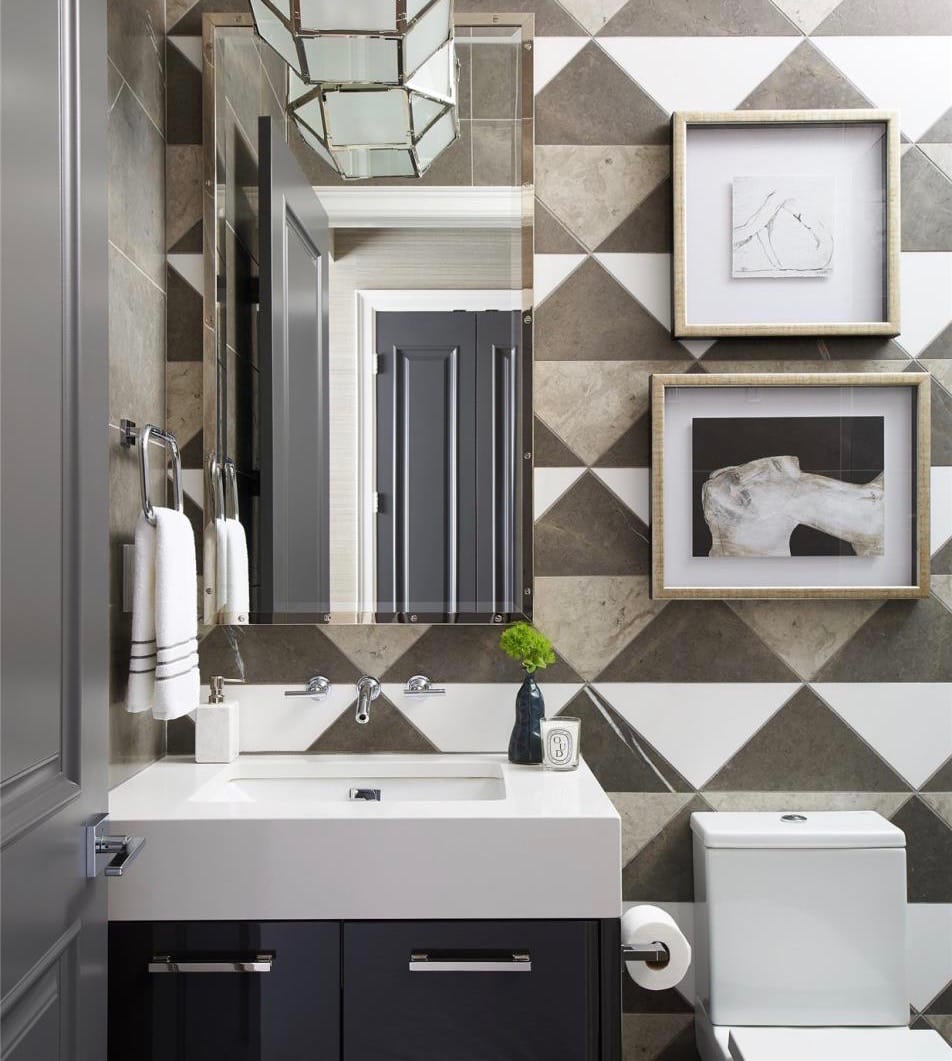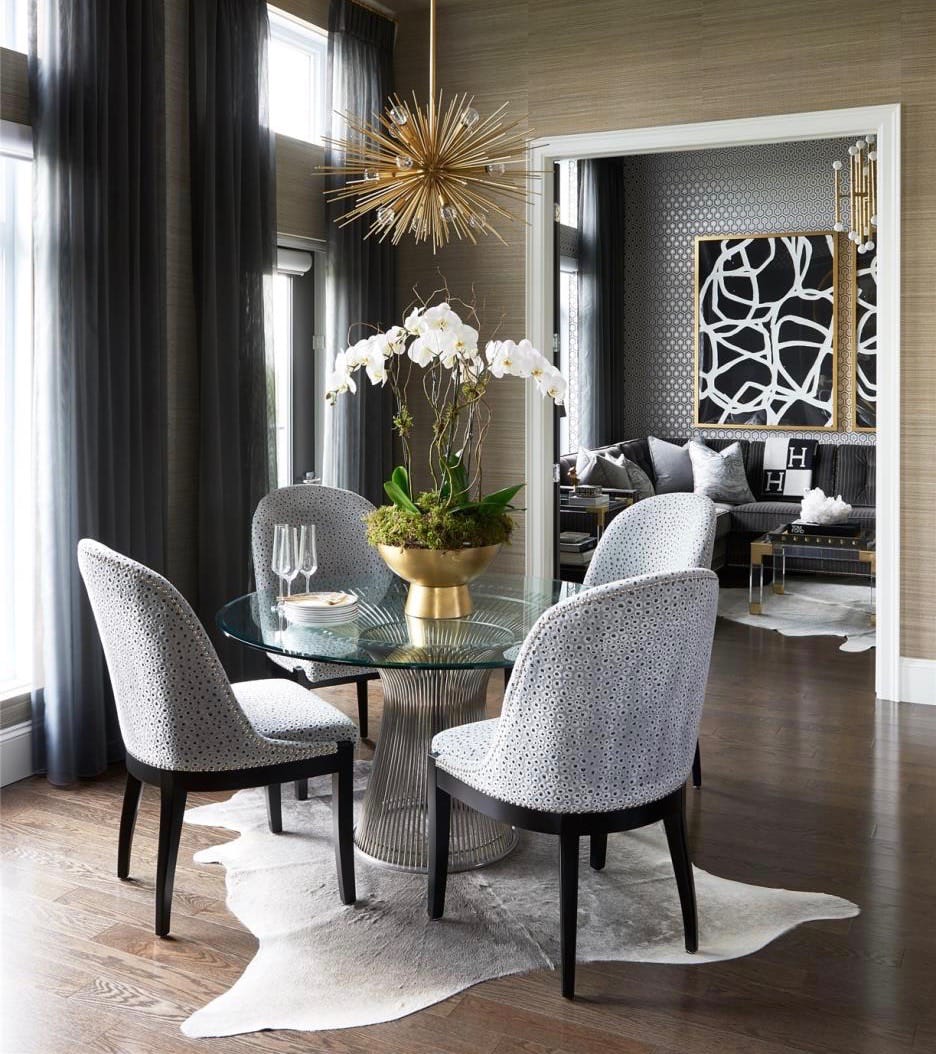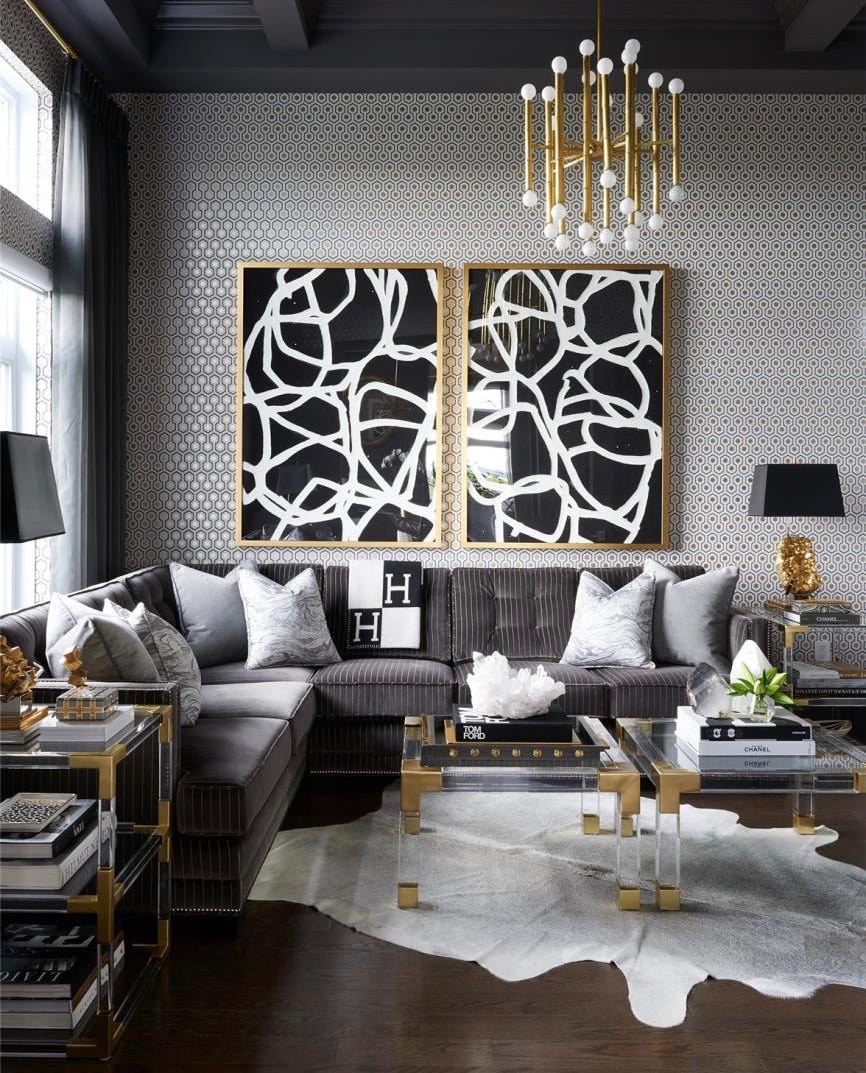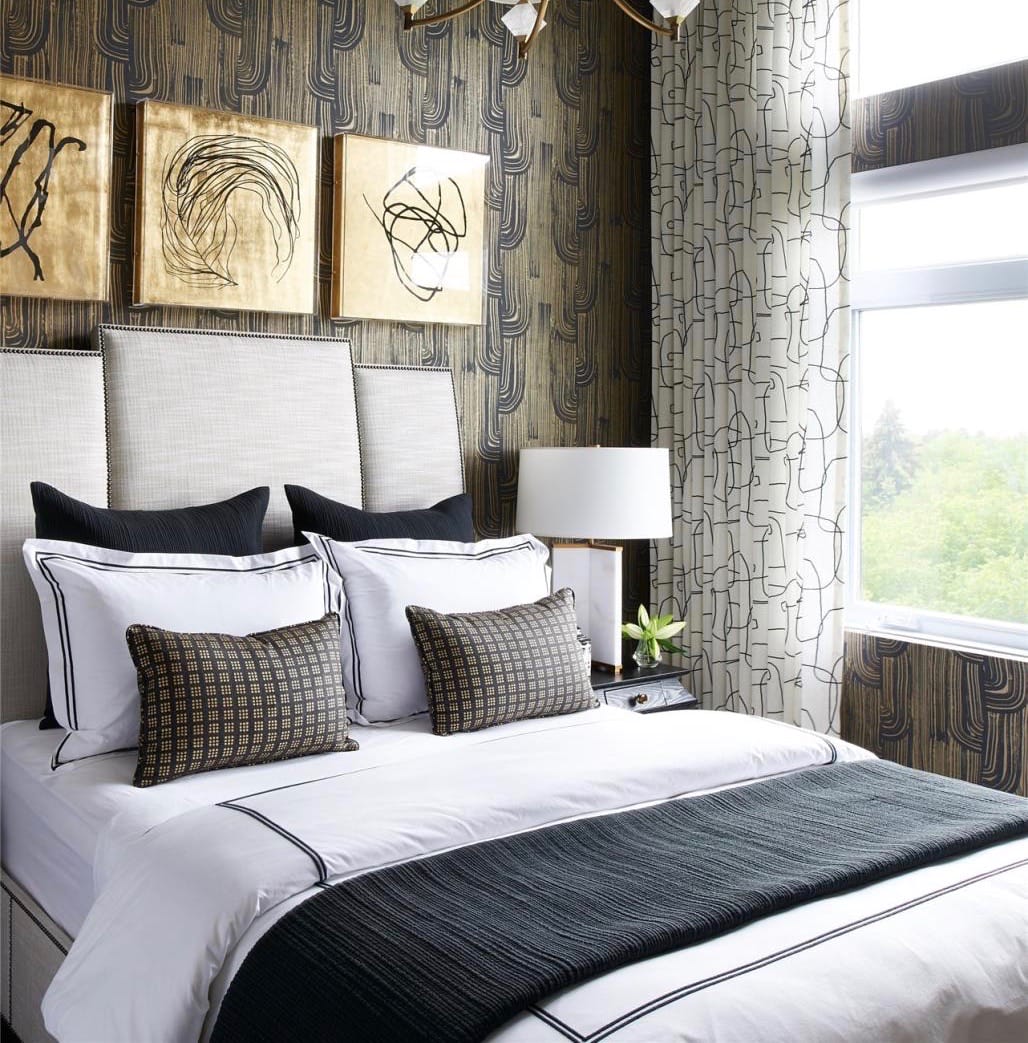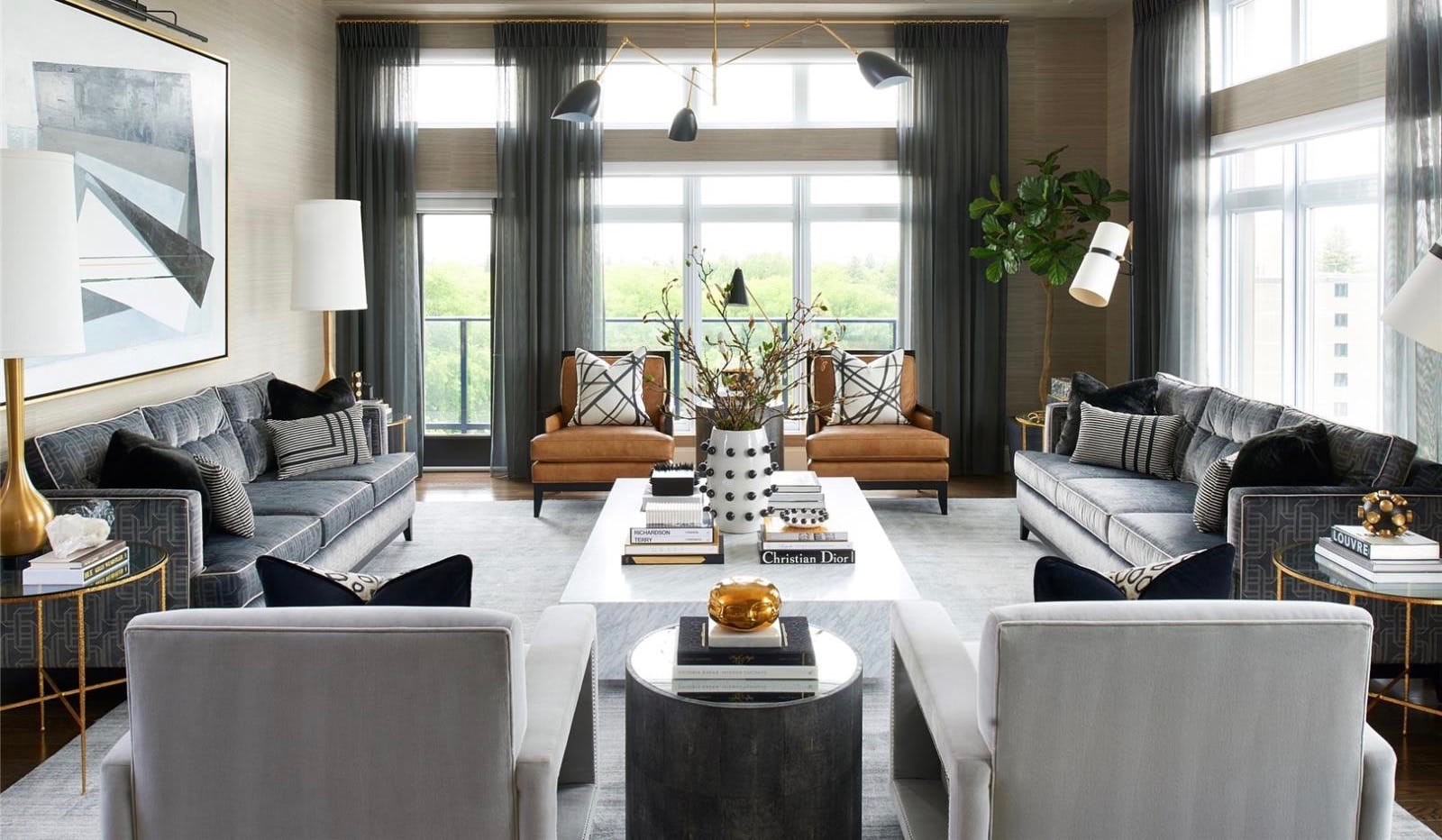 There is no doubt that this home is bold, timeless and beautiful. It is one of the best interior spaces out there and proves that style is right at home in Saskatoon. This condo is currently on the market by Barry Chilliak Realty.
Want to feature your listing? Contact us at [email protected].