A buyer's guide to open houses
Learn everything you need to know about open houses.
When you are house hunting, an open house is the perfect way to see your future home before you're ready to buy.
Open houses are the chance for sellers to show off their homes to prospective buyers. In an open house, everyone is welcome, and no appointment is necessary for you to step in and view the property.
Here's a quick guide to open houses:
Why go to an open house?
For sellers, an open house is a sales tactic to motivate potential buyers into making an offer. They get to show the property in its best conditions. By taking away the clutter and placing nice furniture, they present their home as a place you could call your own.
As a buyer, open houses are a must. It is your opportunity to see what's out there without the hassle of scheduling multiple viewings. And sometimes, a viewing is all you need to decide whether or not you want to place an offer since online property listings can miss some information or have lousy photos. Once you see the house with your own eyes, you can decide to purchase it or walk away. Consider viewing every open house within your budget.
In a competitive market, open houses are also the time to see who you are up against. The place might jam-packed, but it can give you an idea of the level of interest in a property and whether or not a bidding war is on the horizon.
Even if you are not ready to make the offer or have your finances in order, open houses are a great way to check out the market. Before your house hunt, it is good to have a clear picture of what you can afford, and get a glimpse of your preferred neighbourhoods.
How to find open houses in your area
There is no need to call agents to find open houses in your area. With Homicity, you view open houses on your preferred dates and location.
Here's how you can do it: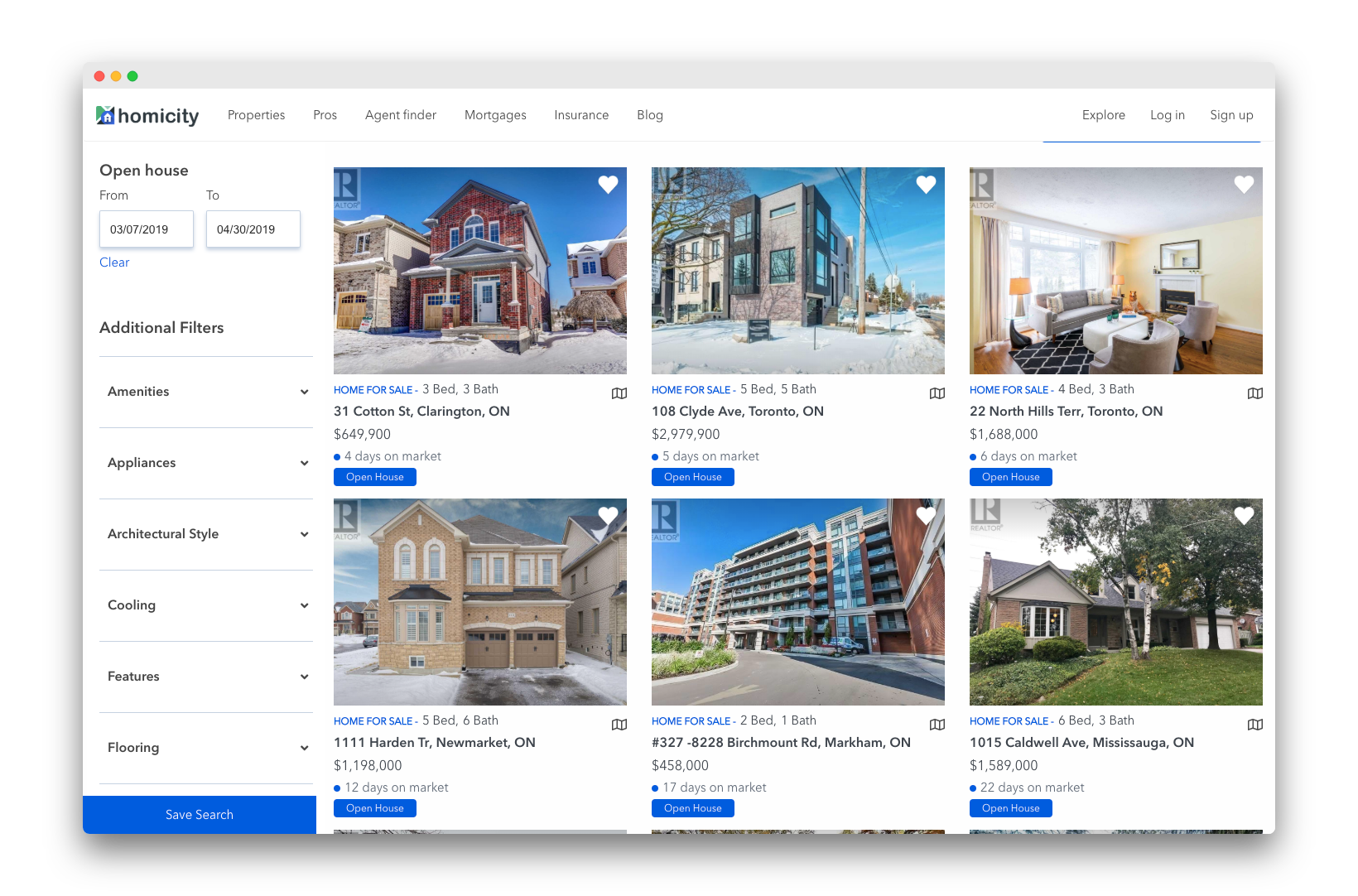 Start by searching for properties in your location

Scroll down to "Open house" in the left sidebar

Select the dates you are available to view open houses

Done! Open houses will show up in your search
Be prepared
Before you head to an open house, you need a game plan. First, you need a list of questions to ask the seller and their agent. With all the necessary information, you'll be able to make an informed decision.
Make a list of must-haves and deal-breakers before going in and bring it with you during the open house. This list needs to take into account your needs, wants, lifestyle and potential things you'll need in the future (e.g. extra bedrooms). It will make it easier for you to decide if the home is right for you as you tour the property.
Open houses can also lead to a competitive "first come, first serve" game. If you have an interest in the property, be ready to make the offer right away. Contact your agent and get all the documents ready to go in case the property makes an impression on you and you see other buyers eyeing your future home. Although it's true that you want to take time to think about your real estate investment, sometimes waiting can snatch it away from you.
Questions to ask
An open house is your chance to ask questions about the property and get information on the property that might not be on the listing. During your preparation, make the list of questions you want to ask to the seller or agent.
Here are some questions to add to your list:
Are there any offers on the table?

What is the timeline for the purchasing process?

How long has the property been listed?

When was the property build? Have there been any home improvements?

Is there something we should know about the property?

What are the running costs of the property?

What is the type of heating?

What is the neighbourhood like?

Are there any schools and parks nearby?

Have there been any previous issues with the property or the neighbours?

How is the property's winter maintenance?
The proper etiquette
Since most open houses you visit are someone else's home, proper behaviour is a must. There needs to be some respect for the current owners.
Follow these guidelines when you visit an open house:

Be on time: If the viewing is from 2 to 5 pm, don't show up before or after the scheduled time. Barging into someone else's home is not very polite. If you are running late, call the agent and let them know. Some might be happy to give you a tour after the open house is over. And if the date and time don't work for you, contact the seller's agent to book a private viewing of the property on another day.

Fill in the registration form: Open houses have a sign in sheet at the entrance of the home to keep track of potential buyers and keep a log of people coming into the home for security purposes. Most of the times you won't be able to view the property if you don't register.
Keep it clean: When you enter the property, wipe your feet. Your shoes might dirty up the place by dragging mud, leaves, and grime on the floor. And if the showing is during the rainy or winter season, always take your shoes off. It's just common courtesy.

Don't be noisy: A rule of thumb for open houses is "no touching." Everything you see inside the home is the seller's personal belongings. If you want a closer look at the property's maintenance (e.g. behind the furniture), hire a home inspector once you are a serious buyer. Take your time instead to view the property carefully without touching anything.

Ask permission: When it comes to taking photos, opening closets or looking at other rooms of the house, always ask for permission. The realtor will be happy to help you.

Avoid the crowd: Remember that there are other visitors during the open house other than yourself. If you see everyone heading to the second floor, view the ground floor instead. Give other guests their space to not over-crowd the place.

Be polite with the host: Greet the realtor when you come in and let them know if you are already working with a real estate agent.

Talk about the property: An open house is not the time to socialize. A little small talk is fine, but keep the conversation about the property. And if you need to ask the seller of their motivations to move, do it politely.

Don't criticize: Some people make design choices you might disagree with. If you see something you don't like, don't even mention it. A seller might discard you as a buyer if you bad-mouth their home.
After the showing
Once you leave the open house, you need to decide if the property is right for you. Review your checklist of must-haves and deal-breakers to see how the property has matched your needs. If the property has most of the features you want and is within your budget, work with your agent to determine the best offer and send in your initial bid. On the other hand, if the home wasn't the right fit, start your search again and see what else is out there in the market.