5 easy ways to update your home decor for 2019
Introducing 2019's hottest trends to your home doesn't always mean renovating! Try these quick and easy interior design ideas to elevate your living space.
Home decor styles can be difficult to keep up with, especially if you don't redecorate three times a year. But updating your style doesn't mean you need to commit to an expensive or time consuming project. A new look for your home will add value, modernize your lifestyle, and maybe even boost your mood. These simple DIY decor ideas will leave your home looking fresh and stylish- without taking up your entire weekend!
Go bright
2018 featured plenty of monochrome, but 2019 is all about colours! It's time to bring your favourite jewel tones or pastel shades to life: aqua, mint, turquoise, lime green, and even purple are making a comeback.
With a simple coat of turquoise paint, this dresser becomes a funky one-of-a-kind statement piece!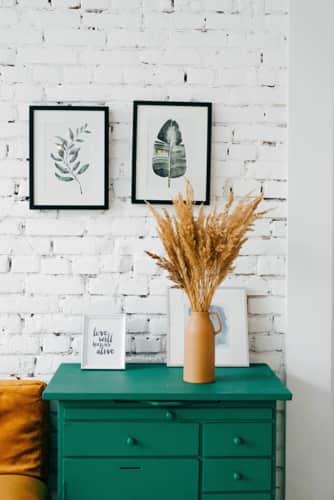 Photo by Alexandra Gorn on Unsplash
Orange and pink are especially popular choices to introduce warmth in a playful way. It's logical, then, that Pantone's colour of the year is Living Coral. This orangey pink hue is sophisticated and trendy, not to mention versatile: coral pairs well with beige, grey, black, brown, and off-white, but it really pops against contrasting shades of green or blue.
With the simple addition of a brightly printed textile blanket, this plain white chair becomes chic - not to mention comfy!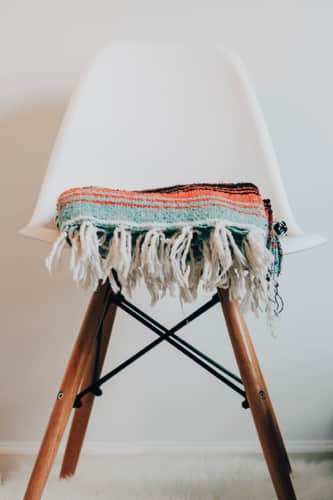 Photo by Kara Eads on Unsplash
Try adding splashes of coral to your existing rooms by incorporating details like picture frames, curtains, end tables, or bed linens. Something as simple as a brightly coloured candle or a repainted cabinet can transform the entire room.
With just a bouquet of pretty pink flowers and a light pink bedspread, this bedroom has a brand new look!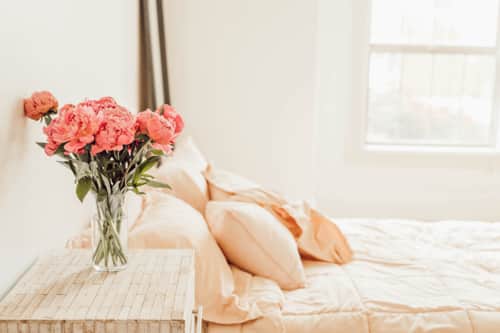 Photo by Liana Mikah on Unsplash
Blue on blue on blue on..
Feeling blue? Then you're ahead of the curve! Blue is everywhere this year, often layered to create interesting textures. Misty blue shades are a calming choice for bedrooms, but recently they've made an appearance in living rooms, kitchens, bathrooms, and more.
Get creative with your accessories: add a vase, lampshade, print, or curtain in your favourite jewel tones.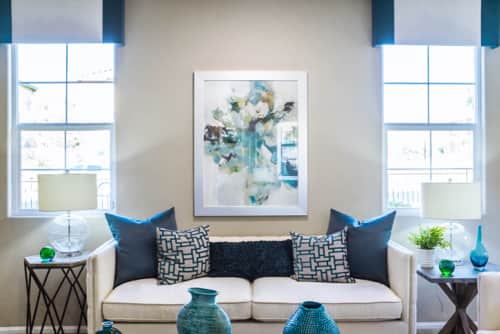 Photo by NeONBRAND on Unsplash
Don't worry about matching your shades - blue is beloved by designers for its versatility and stackability. Essentially, pretty much all shades of blue will match other shades, especially if your colours all have a grey undertone. A few accents in trendy shades like navy, teal, or robin's egg blue will make your space feel fresh and new.
Soft touches like pillows and throws in contrasting turquoise and navy give this standard couch a trendy look. (Sorry, but the kitty isn't included!)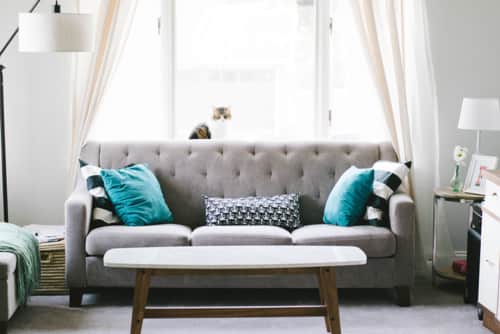 Photo by Nathan Fertig on Unsplash
Back to nature
Get inspired by the beauty of nature with this trend. Spaces with natural materials like unfinished wood, rattan, bamboo, wire, cane, or linen lend your home a relaxing and zen vibe. As well, using naturally sourced or recycled materials is an eco-friendly alternative to materials like tile or leather.
Relaxing in this cosy rattan chair, we wouldn't blame you if you thought you were at the beach!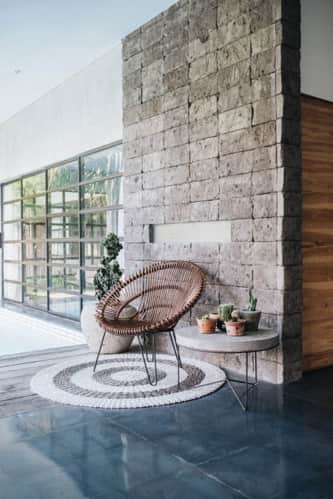 Photo by Sonnie Hiles on Unsplash
Another easy (and affordable!) way to bring the outdoors inside is with plants. Even realistic fake plants will accomplish the look, if your thumb is more brown than green.
Show off how you keep your plants looking fresh by hanging watering cans from hooks. An added bonus - you'll never forget to water again!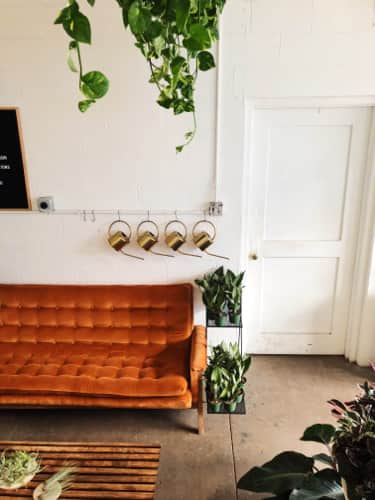 Photo by Andrew Spencer on Unsplash
Coordinate your new style by introducing copper accents with lights, baskets, and accessories. A lamp is the perfect way to illuminate a funky wall print.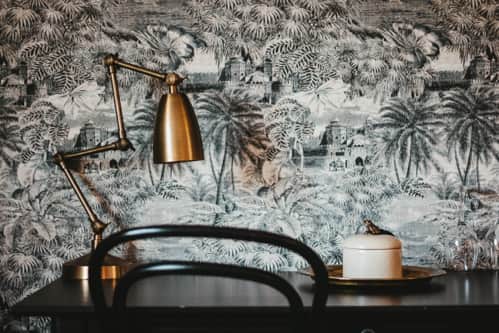 Photo by Julian Hochgesang on Unsplash
White no more!
Kitchen design is no longer limited to white or off-white. Kitchens are the centrepiece of the home, and in 2019 we're making our kitchens our own. Add a pop of colour to your kitchen with brightly coloured cabinets, unique pulls or knobs, or simply a display of funky dishware. Try a trendy shade like forest green, or stick to a classic like a bold berry red.
Displaying bakeware on the wall gives this kitchen a cool, industrial vibe - it also frees up valuable storage space!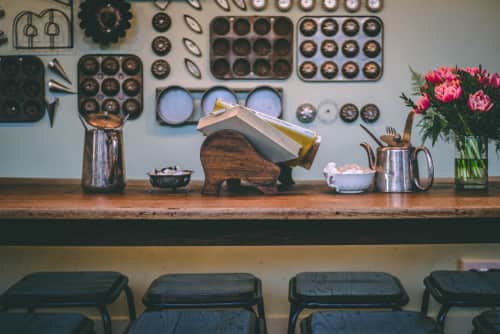 Photo by Matt Seymour on Unsplash
Another funky trend set to invade the kitchen in 2019? The brightly coloured backsplash! Bigger and bolder backsplashes are a great way to add dimension and depth to your kitchen. Even if you're not ready to commit to a full renovation, peel and stick backsplash tiles are easy, convenient, and affordable. Even rental kitchens can be updated with this trend to transform dowdy into designer!
Pretty tiling details bring the light into this modern kitchen. This gorgeous coral tone proves that this colour of the year is truly versatile enough for every room in your home!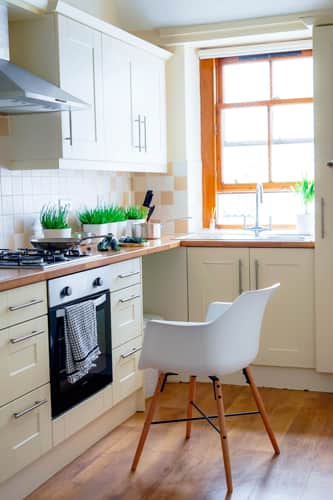 Photo by Toa Heftiba on Unsplash
For a more modern look, go for maximum drama with a darker backsplash. Adding a dark shade to your kitchen walls gives the room depth and makes it feel larger.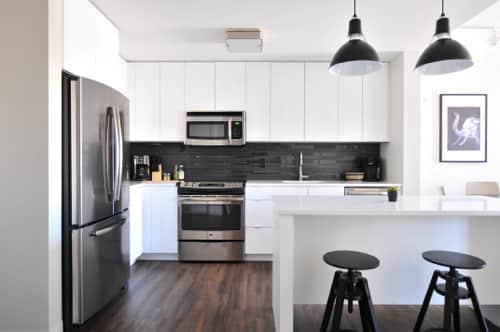 Photo by Naomi Hébert on Unsplash
Bold is better
Move over minimalists; 2019 is the year of the maximalist. There are a lot of objects that "spark joy" in your home, so put them on display with a gallery wall. A large, statement print will add drama to any room. Or, go the DIY route and arrange frames in an interesting shape to create your own gallery wall.
Use non-traditional frames (like these clipboards!) for an eclectic and stylish look.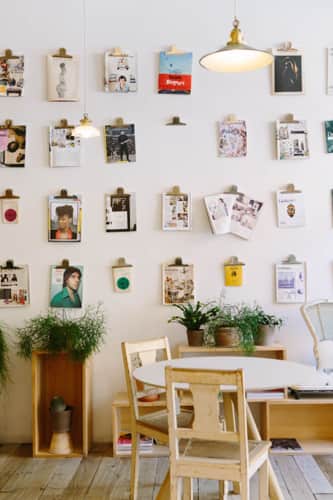 Photo by Jason Briscoe on Unsplash
Don't be afraid to stray from the traditional: as well as your favourite prints or paintings, frame and hang unique treasures like postcards, maps, foreign money, family recipes, the cover of your favourite book, birthday cards, pressed plants… anything your heart desires! Try searching for unique pieces at flea markets or rummage sales. It's an easy and affordable way to display your treasures and infuse your home with personality.
A mixture of colourful prints, unique found objects, and greenery give this gallery wall an appealing visual depth.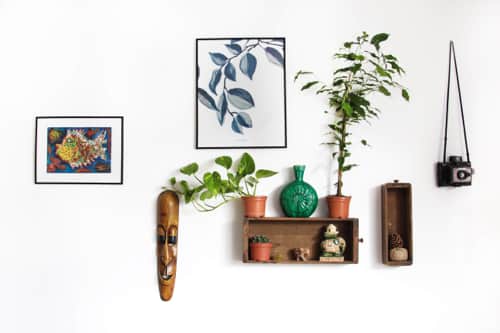 Photo by Manja Vitolic on Unsplash
Feeling inspired?
These are simple and effective methods to introduce new styles into your home, but sometimes you need a more experienced hand. Discover trusted interior design pros in your community with Homicity Pros. Discover your next project with our custom home search.
Are you a local pro? Claim your free business profile and find more clients in your community.