4 room renovations that prove the power of interior design
Take a look at these room transformations to inspire your next renovation.
Have you ever looked around your home and realized that it wasn't helping you accomplish your goals? Many homeowners often find themselves in exactly those situations and they don't know how to get from their dreams to enjoying their home more fully. They want to entertain more, have more room to bake, have a place to relax and have a homework zone for the kids.
Let's walk through 4 transformations by Natalie Cox from CPI Interiors to illustrate how three simple changes can significantly improve the way you live in your home.
Maximizing space in your living room
A living room is a space to sit with a glass of wine or a cup of tea after a hard day's work. The room can also be used for entertaining when multiple guests are over. The owners of this home wanted to take their living room space to the maximum, instead of leaving it underused. They wanted to entertain and enjoy themselves after the kids went to bed. Last but not least, they wanted quality furnishings that would be comfortable and last many years.
Cox, an experienced interior designer, knows that a good interior decor renovation starts with the layout. By moving the piano to the far wall, it opened up the living space for a great conversational layout. New buffet and coffee tables are put to good use as a serving station for appetizers and drinks. The new mid-century modern inspired sofa and chairs blend nicely in style with their teak dining set in the adjoining dining room, and all the fabrics are stain resistant, perfect for parties and children!
The owners were thrilled with their new room and their increased usable square footage. Now they make such great use of this front room by having friends and family over.

Changing your kitchen layout
Builder's kitchens are functional for most families. But sometimes, they tend to miss the bill when it comes to customization. Your kitchen can be the right size; however, space needs to be used efficiently.
The owners of this home wanted a space to entertain their large family as well as more counter space to roll out dough for baking.
Cox says that starting with a wishlist can help discover your specific needs. Afterwards, it is time to play with the layout until its functional for everyone. She decided to close up the second entrance to the dining room, enabling the owners to have room for double ovens.
Since everyone always gathers in the kitchen during events, she expanded the island into the eat-in kitchen area. This gave the kitchen all the countertop space they needed for baking and entertaining.
Now this family can fit comfortably in their new kitchen and spend more time doing the things they love!​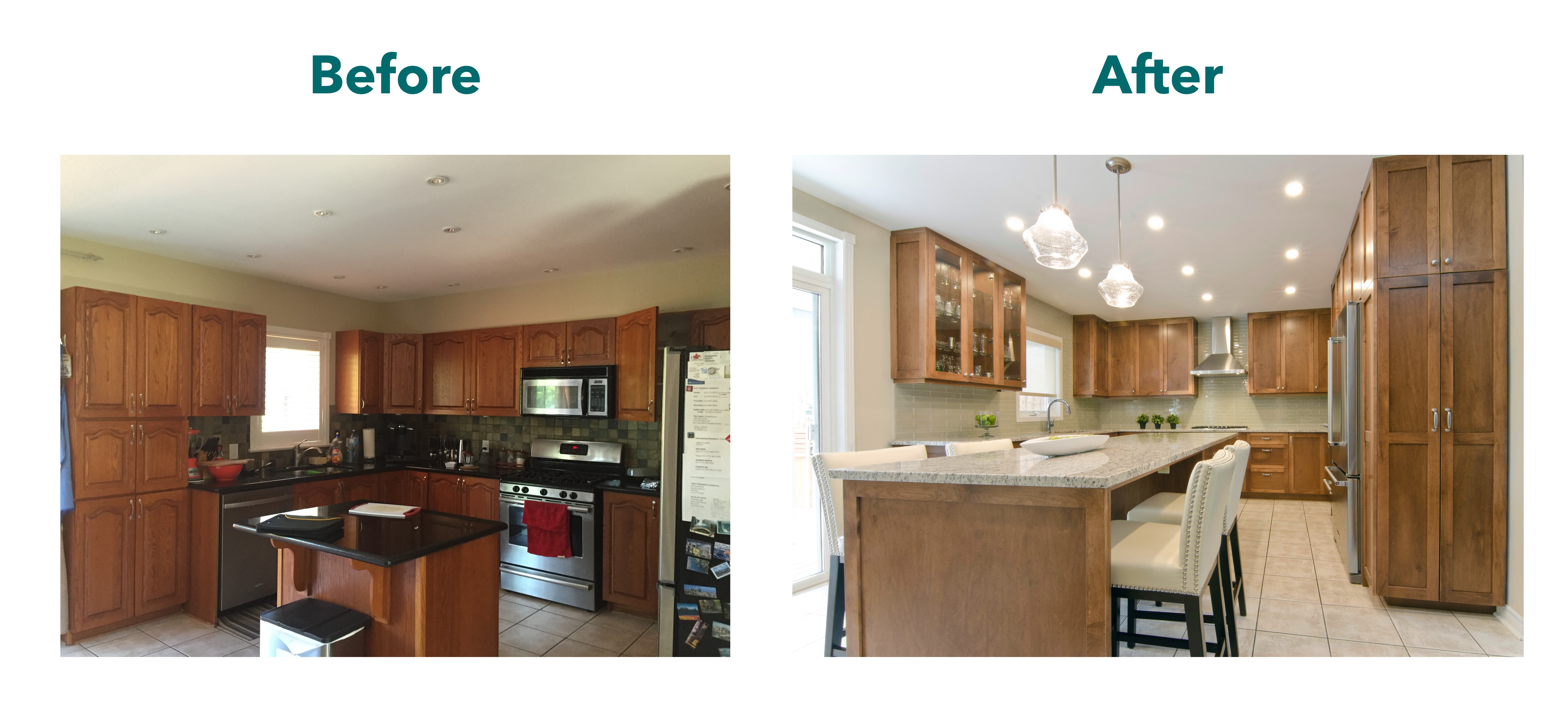 Adding light to your bathroom
Bathrooms need to be a bright space with enough light to get ready for work every morning and relax after a long day. If your bathroom is dark, it is possible to add light to it!
After a consultation with the owners of this bathroom, Cox knew they wanted their master bathroom to be functional. 'The first thing that had to go was the corner tub. It was hard to clean, and because of that it never got used. I noticed a wonderful iron piece, and I used the classical lines as inspiration for the room,' she says.
The owners now wake up excited to greet the day and take advantage of their beautiful spa-like retreat. This room won second place in an International Decorating Den Interiors Dream Room Contest in 2017.​

Changing an unused room
For many homeowners, the formal dining room doesn't get used at all. Cox's advice is to always decorate your home for the way it is to be used the majority of the time. If you never use your formal dining room but are lacking space for other activities, it's time to rethink the purpose of that room.
To put the formal dining room to good use, this family decided to create a homework zone on the main level for their two kids. When transforming the purpose of a room, Cox usually recommends using free-standing furniture as opposed to built-in solutions. This enables the homeowner to stage this room as a dining room again easily should they ever decide to move.
'I found these two desks with storage above that work very well for laptops. I separated the two desks with two bookcases that provide some much needed closed storage,' Cox says about the transformation process. After the makeover, this room gets used multiple times a day. The closed storage is fantastic for office supplies as well as board games, and the table in the middle of the room serves as both a game and snack table.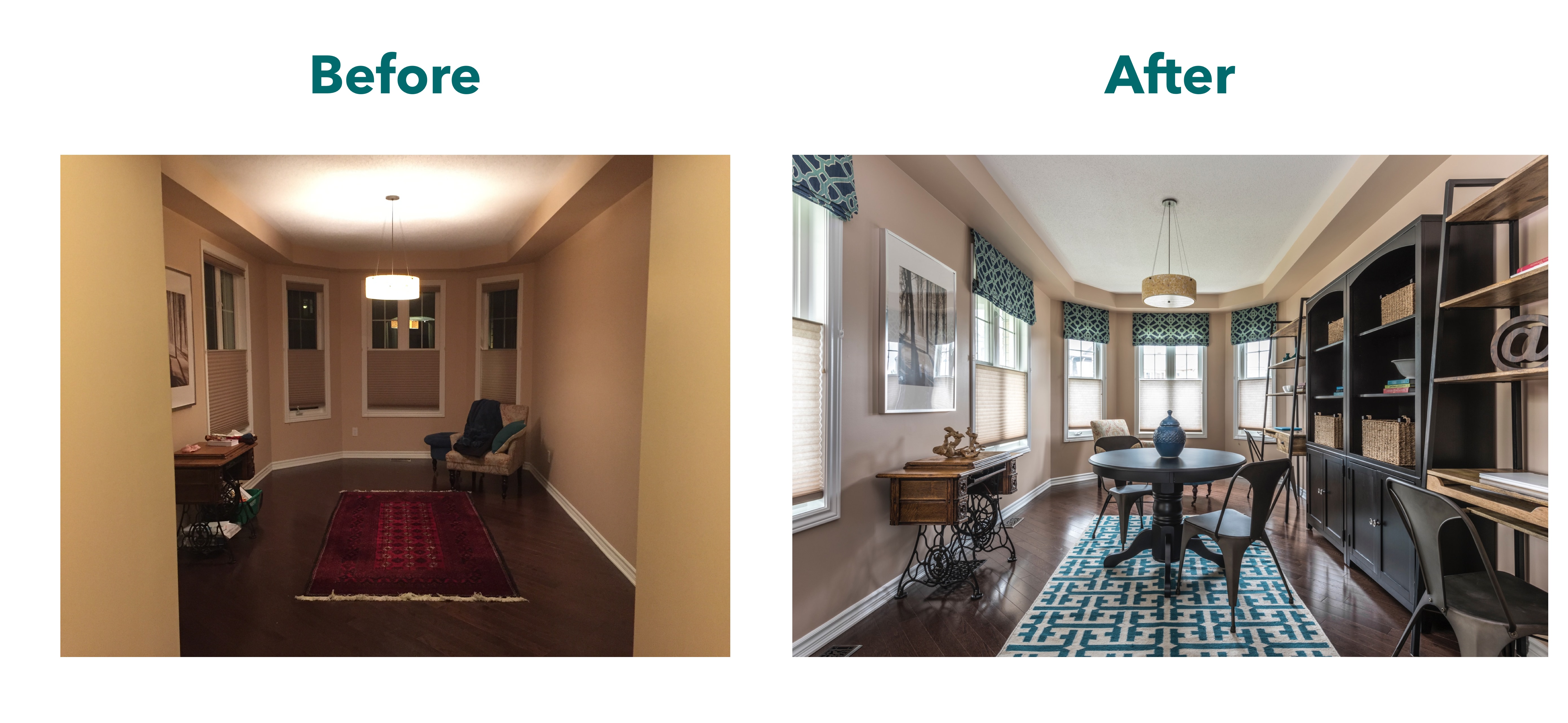 With help from an expert, a room makeover can improve your home. Never be afraid to get started with your own transformation! Cox says that 'hiring a decorator can open your eyes to possibilities you didn't know existed, a decorator also keeps the project moving along and they are there to answer any questions you may have along the way.'
Looking for a mention in our blog? Contact us at [email protected]